Header
Translation options
---
Click the Español link on any page to view the page in Spanish.
Please note: not all pages are available in Spanish at this time.
aps
What to know about our Outdoor Lighting Program
Dusk to Dawn Lighting is our leased lighting program for private property including gated communities, parking lots and alleys.

If we install our equipment, most installation costs are covered in a non-metered rate based on lumen type, pole type and other charges.

While we own and maintain most equipment, owning your own equipment is an option, although you are responsible for installation and any future maintenance on your lights.

Please note that customer-owned lights are subject to code requirements of the governing city or county.

In addition to contacting area residents who may be affected, you are responsible for all trench, conduit and junction box installation. An inspection of the facilities by us is required.

Contracts are in effect for a minimum of 10 years. Once your contract expires, you may continue paying the monthly fee or send us a 30-day written notice to disconnect service.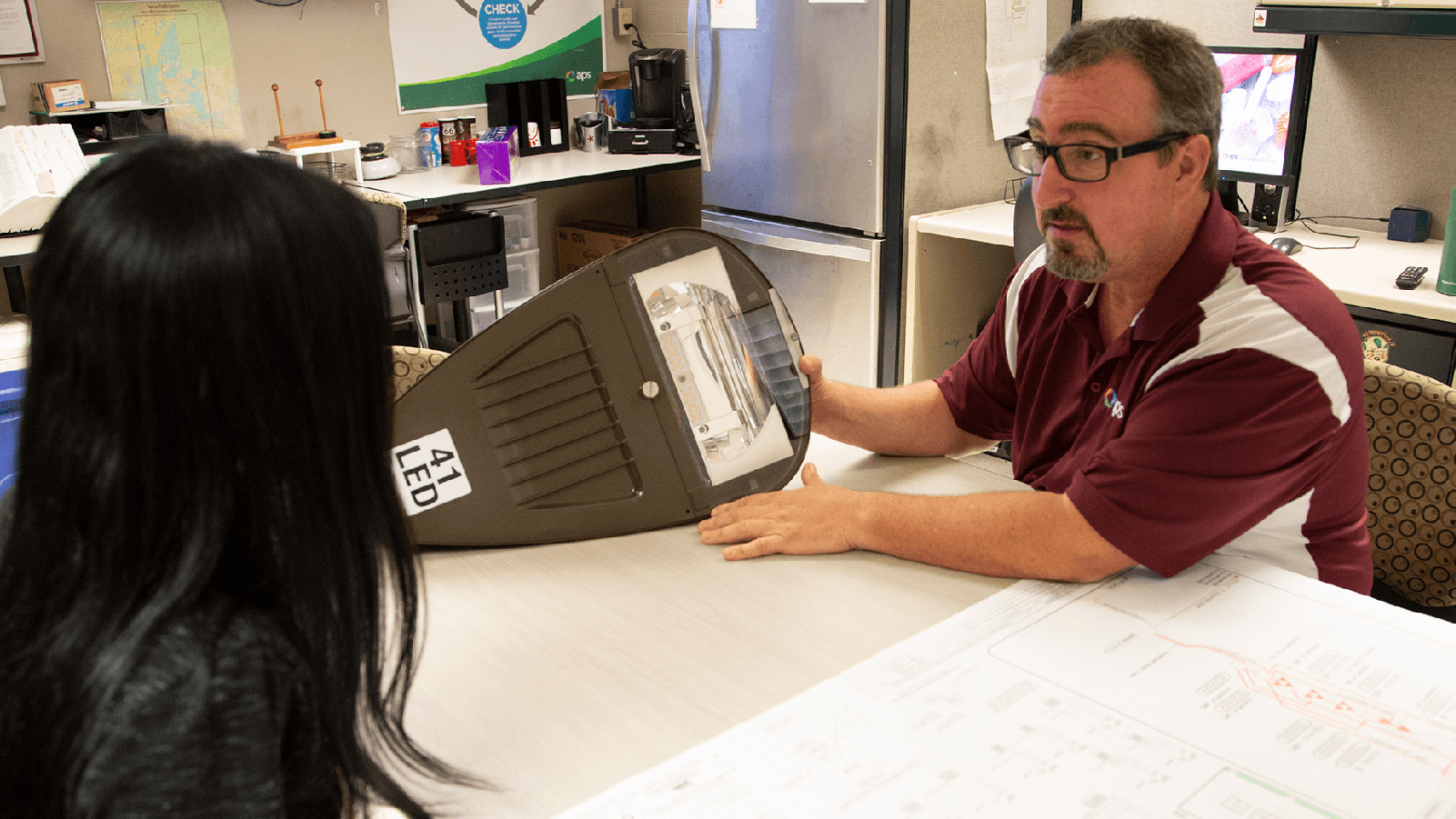 Schedule a pre-construction meeting 
Call 602-371-7171 and please provide the address, desired pole location and account number. You must be the property owner or have written permission from the property owner for a Dusk to Dawn installation. If you are not the property owner, a copy of your lease to show you'll be at the property for the duration of the contract is required. Or the owner of the property will be required to sign the Dusk to Dawn Agreement.
Dealing with developer installed streetlights
Streetlights are required on most projects and are installed at the developer's expense.
All streetlight requests must first be initiated with your city or county. Once approved, contact us to provide an electrical design. The city or county must approve any modifications to the approved drawing.
Streetlights can be owned by a governing agency or APS depending on the municipality. All APS-owned lights and poles must be standard approved APS lights. Developers are responsible to install the lights or hire a contractor for the street light installation.
Regardless of who does the installation, an inspection of streetlights and streetlight facilities by us is mandatory. For trench, conduit and junction box requirements, review our
Electric Service Requirements Manual
.
Report a problem with your home or business service or a street light that's broken, flickering, not working or stays on.
Report outage
Need help?
Contact us
Outage Center
Report outage or view status