Header
Translation options
---
Click the Español link on any page to view the page in Spanish.
Please note: not all pages are available in Spanish at this time.
Supporting Those Who Serve Customers – And Country
APS employee Riley Burdick is a supervisor in distribution operations and maintenance at our dock in Surprise. But that's just his day job. Riley has also spent the last 18 years serving his country piloting a Black Hawk helicopter as a member of the National Guard.

"I have been deployed or activated and called to federal service several times," Burdick said. "Every one of those times I was offered nothing but support and never once worried about what my return to APS would look like."

Burdick, who serves as the chair of the Veteran Engagement Transition Retention Network (VETRN), an APS employee network group that supports veteran engagement and retention, spoke at a recent ceremony about what it means for members of the National Guard and Reserve to receive support from their employers.

At the ceremony, APS received the 2021 Extraordinary Employer Support Award, the U.S. government's highest honor given to employers and an extension of the Secretary of Defense Employer Support Freedom Award that APS won in 2014.
"Delivering for the community is what we do here at APS," said Tony Tewelis, APS's Vice President of Transmission and Distribution Operations. "Who better to help us do that than employees who, by their very nature, are the first to step up and deliver for their communities as National Guard and Reserve members. They bring valuable experience, unique organizational skills and tested leadership abilities to their positions at APS, and they bring devoted service to the people of Arizona and across our nation."

Dan Irving, who is the Arizona state chair for the Employer Support for the Guard and Reserve (ESGR), presented the award to APS. While doing so, he recognized APS's strong culture of supporting and valuing members of the military through its human resources practices and internal organizations such as the VETRN employee network group.

"I am honored to be part of an organization that recognizes the experience, tested leadership and selfless service that our Guard and Reserve forces provide," Burdick said. "APS receiving the Freedom Award, and now this award, is a true testament to the support that APS has for our guard and reserve members."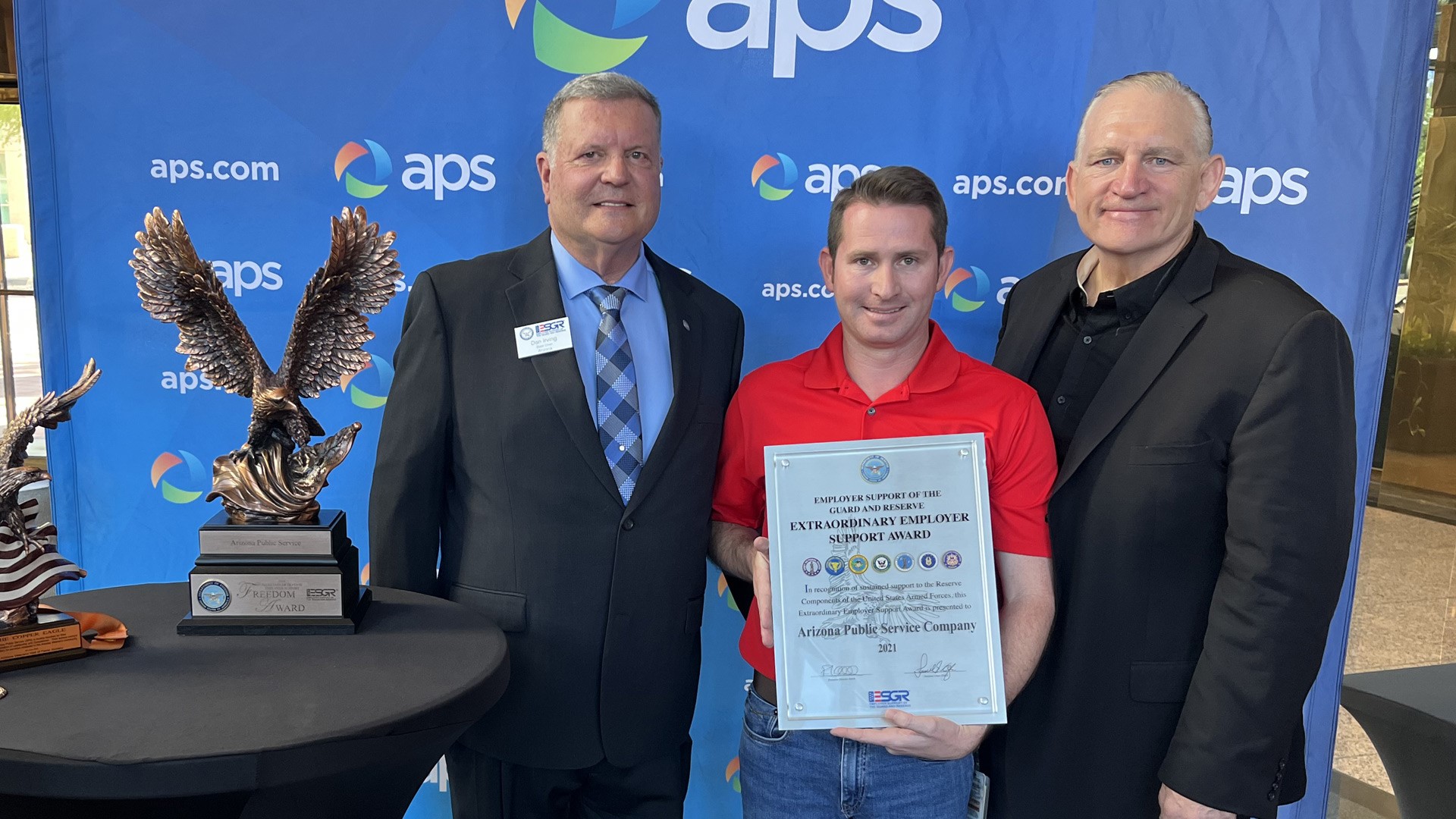 View up to date news, articles and stories related to APS in the community.
Back to Newsroom